Joint Centre Profile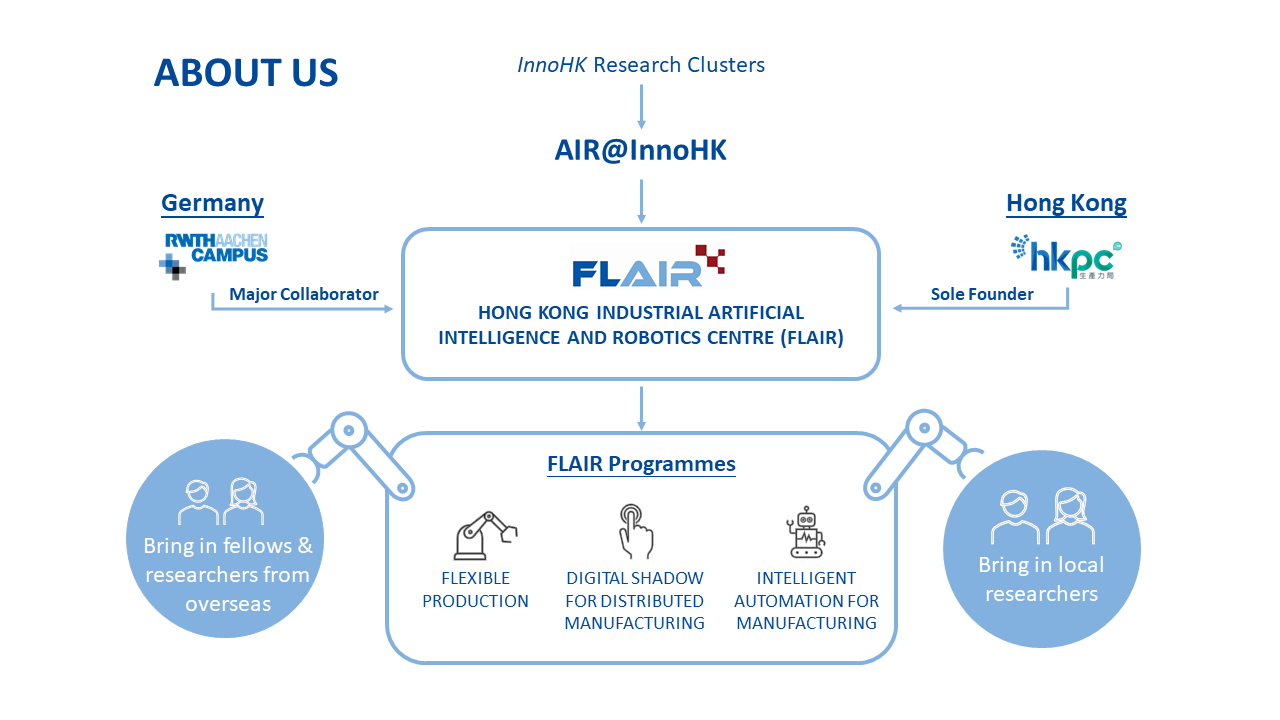 The Hong Kong Productivity Council (HKPC) and the RWTH Aachen Campus from Germany join forces to establish the Hong Kong Industrial Artificial Intelligence & Robotics Centre (FLAIR). Located at the Hong Kong Science Park, FLAIR is part of AIR@InnoHK, which is one of the two world-class research clusters being established by InnoHK Clusters of the HKSAR Government, to support Hong Kong in developing into an international innovation & technology hub.
As the sole founder, HKPC will work together with RWTH Aachen Campus, the major collaborator of FLAIR, by bundling their strengths and repertoire of resources in technical expertise, networks, innovation and patents etc. to set up the FLAIR and support its operation.
About HKPC
HKPC is a statutory organisation established in 1967 to help Hong Kong companies enhance their productivity and competitiveness. HKPC is the champion and expert in facilitating Hong Kong's reindustrialisation empowered by i4.0 and e4.0 - focusing on R&D, IoT, big data analytics, AI and Robotic technology development, digital manufacturing, etc., to help enterprises and industries upgrade their business performance, lower operating costs, increase productivity and enhance competitiveness.
Over the years, HKPC has built a strong track record in upgrading the R&D and technical capabilities of the local manufacturing industry, with its latest strategic foci being placed on promoting innovation for smart future and reindustrialisation. Riding on its strong partnership network, HKPC has also provided steadfast support to local industries to facilitate technology and knowledge exchange with their overseas counterparts and R&D institutions.
Global Partnerships
FLAIR aims to engender synergy and achieve a clustering effect by attracting top-notch local, Mainland and overseas research institutions to engage in research collaboration. It will also actively approach private enterprises and industry associations for consultation and solicit their involvement in FLAIR's work to ensure its industry orientation in addressing major R&D problems encountered by the industries in AI adoption.
Riding on the network of HKPC, the following collaboration partners in academia and R&D institutes have been identified:
• Center for Intelligent Maintenance Systems
• Tsing Hua University
• Peking University
• Shenzhen Institutes of Advanced Technology
• Shenzhen Institute of Artificial Intelligence and Robotics for Society
• Shenzhen Research Institute of Big Data
• The Chinese University of Hong Kong, Shenzhen
• UBTech Robotics
Technical Solution Partners